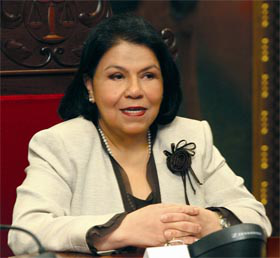 She presided over the Supreme Court for six years until May 2013. Since then she is still in the Constitutional Court in her capacity as judge of the Republic.
She came to the Supreme Court together with 48 other –regular and alternate- judges appointed by the National Assembly in December 2004. The following year she replaced Ivan Rincón Urdaneta as Presiding Justice of the Constitutional Court, who is the current Venezuelan ambassador to Colombia. In 2007, she became the second woman to head the judiciary.
Born in the state of Yaracuy, Luisa Estella Morales graduated as a lawyer from the University of Carabobo and specialised in Agricultural Law at the Universita Degli Estudi Di Firenze in Italy. At Externado University of Colombia she earned the degree of "Latin American Expert in Agricultural Law," and she graduated from the University of Montpellier in France as "Specialist in Renewable Natural Resources".
In 1976, she worked for four years as a civil servant at the National Agrarian Institute, first as a National Advisor for farmer promotion, training and organisation, and then as Land Manager in the Central-West region (Lara, Falcón, Portuguesa and Yaracuy). From there she moved to the judiciary, where she worked as Judge of Lands, Forestry and Water of the Agricultural Region in Yaracuy and Falcón.
She then chaired the Court of First Instance in Civil, Commercial, Agricultural, Traffic and Labour Matters of the Judicial District of Yaracuy, from which was dismissed in late 1989, by resolution of the now extinct Council of the Judiciary (the judicial government of the so-called Fourth Republic) on charges of administrative irregularities attributed to her management.
Source: Poderopedia
(http://www.poderopedia.org/ve/personas/Luisa_Estella_Morales#tab_perfil=)