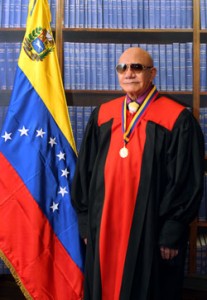 Justice Héctor Manuel Coronado Flores, Vice President of the Criminal Court.
He graduated from Santa Maria University with a law degree; he holds a Ph.D. in Criminal Sciences; Specialist in Criminal, Administrative, Human Rights and Constitutional Law.
In his long career, he has served as Rector Judge of the Judicial District of the state of Monagas; Judge of the Court of Appeals of the Judicial Circuit of Monagas; Public Prosecutor; Superior Criminal Judge of the Metropolitan Area; Superior Judge in Administrative Matters of the Metropolitan Area; Itinerant Judge and Legal Advisor of INCE.
A note published in El Universal in 2010 said Coronado Flores was the judge who ruled on the case of former judge Lourdes Afiuni, imprisoned by order of former President Hugo Chávez.